Social infrastructure that supports our lives. In the physical structures, you will always find steel products.
With our superior technology and quality, Pacific Steel Mfg. is friendly to nature and contributes to society.
Since its founding in 1938, Pacific Steel Mfg. has a corporate philosophy of "Gentle with Nature and Contribute toward the Social Progress by fine Technology and Quality" and forged steel with an integrated production system from steelmaking, forging, heat treatment to machining in Hokuriku Toyama. We have developed as a specialized manufacturer that produces products.
Our own brand NT-Rolls, which was developed with our main product, our own technology, is excellent as a so-called hot rolling roll of shaped steel that is used in large quantities for infrastructure equipment such as railroads, bridges, blast furnaces and revetment works. Due to its durability, it has been patronized by steel companies in Japan and overseas, including blast furnace manufacturers, for many years.
In addition, as turbine parts for generators, a series of large valves that control ultra-high temperature and high-pressure steam, stable high-speed rotation over a long period of time under ultra-high temperature and high pressure, and the highest level of quality required for forged steel products are required. We have delivered to most heavy electric plant manufacturers involved in nuclear power generation from water and thermal power, such as turbines and rotors, generator shafts, thick-walled piping members, flanges, etc., and have received high reliability and evaluation.
In addition, we are a competitive manufacturer in terms of quality, price, and delivery time for general forged steel products required by various industrial machinery industries.
We will continue to make further efforts in collaboration with related group companies and continue to supply unique forged steel products to contribute to society.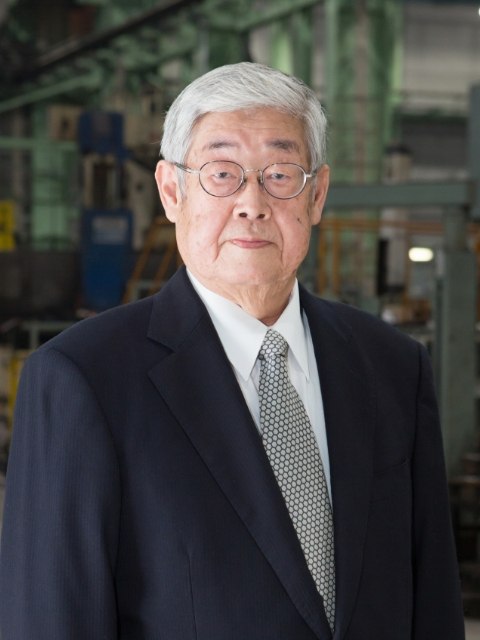 President & CEO
Yuzuru Watanabe
CSR / Environmental Initiatives
Iron is a material that can be recycled many times, and almost all of it is collected and reused. At Pacific steel mfg., the iron scraps generated by machining are melted again in an electric furnace and used for manufacturing. The power plant materials we make are also used in power plants that use renewable energy such as geothermal power generation and biomass power generation. We are doing eco-friendly business using iron.
Quality Policy
Accurately grasp customer requirements, constantly challenge new technologies,
strive for continuous quality improvement and cost reduction,
and provide products and services that exceed customer expectations at appropriate prices and delivery times.
Environmental Policy
- Basic Principle -
Pacific Steel Mfg. recognizes the environmental impact of the business activity of manufacturing forged steel products, and has set the following basic policy to reduce the environmental burden and will work diligently.
- Basic Policy -
1. Harmony
We aim to be a factory that is in harmony with the environment by preventing pollution while continuously improving by practicing the PDCA cycle.
2. Recycling
We will work to reduce electricity and fossil fuels and reuse industrial waste such as slag and dust to promote the formation of a recycling-oriented society.
3. Law‐abiding
Be aware of social responsibility as a sensible corporate citizen and comply with environment-related laws and regulations.
Company Overview
Company Name
Pacific steel Mfg.Co.,Ltd.
Locations
[Headquarters/Factory] 1-93 Shimoshin-Nissomachi, Toyama City, Toyama Japan
Google Map
[Tokyo Office] Marunouchi Eiraku Building 1-4-1, Marunouchi, Chiyoda-ku, Tokyo Japan
Google Map
Representative
President and CEO Yuzuru Watanabe
Contact
[Headquarters/Factory] TEL +81-76-432-4175
[Tokyo Office] TEL +81-3-4243-1260
Foundation
April 1938
Capital
700 million yen
Number of Employees
216(198 male and 18 female; as of January 1, 2022)
Main Products
Power generation-related components, mill rolls for section steel hot rolling (NT Rolls), suction rolls for paper making, calender rolls, marine engine components, and other steel forgings for all kinds of industrial machinery components
Main Customers and Suppliers
Nippon Steel Corporation / Mitsubishi Heavy Industries, Ltd. / JFE Steel Corporation. / Dongkuk Steel Mill Co., Ltd. / Hyundai Steel Co., Ltd. / Nucor-Yamato Steel Company / Elliott Group / Toshiba Energy Systems & Solutions Corporation / Hitachi-GE Nuclear Energy, Ltd. / Liberty Primary Steel
Employee Facilities
[Company dormitory] 3-story building, 20 rooms

The Pacific Steel Mfg. headquarters and factory are located approximately equidistant from Toyama Station and Toyama Bay, in an industrial zone along the Jinzu River.
The facilities on the lush green factory grounds include an electric furnace shop, a forging shop, heat treatment shops, and machining shops.
Layout of Factory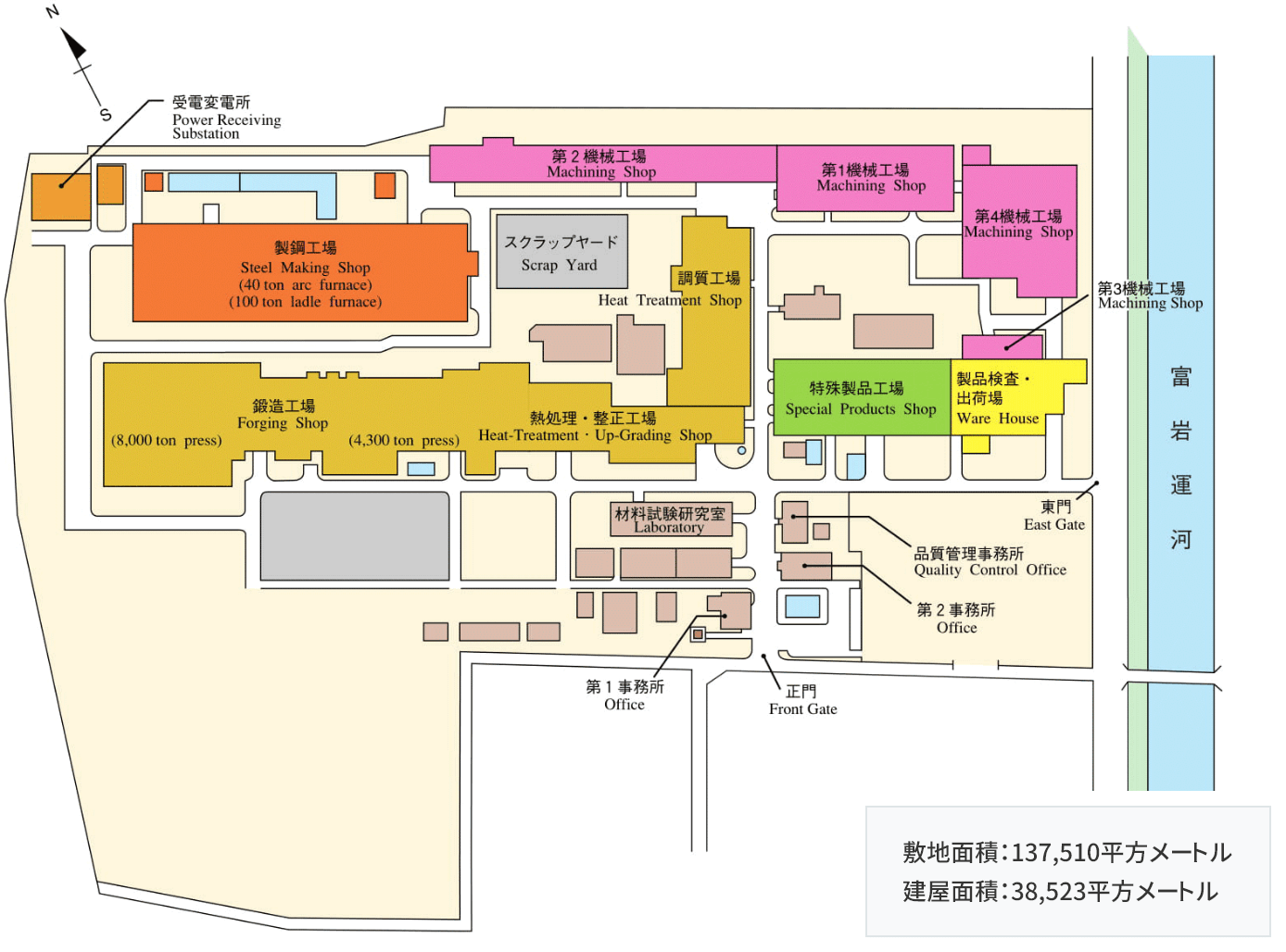 Corporate History
| | |
| --- | --- |
| Apr. 1938 | The Company is established by Nippon Soda Co., Ltd. for the purpose of manufacturing steel forgings and special alloy iron. |
| Dec. 1949 | In accordance with the Enterprise Reorganization Act, the Company splits from Nippon Soda Co., Ltd. and changes its name to Nisso Steel MFG. Toyama Factory. |
| Apr. 1963 | The Company develops NT Rolls putting high-carbon cast iron material through a special treatment. |
| Mar. 1966 | Production of iron sand pig and other materials is discontinued, and the Company becomes a factory specialized in steel forgings. |
| May 1966 | The Company is granted rights for the regular manufacture and sale of NT Rolls by Yawata Iron & Steel Co., Ltd. (now Nippon Steel Corporation). |
| Jun. 1969 | The Company obtains a Japanese patent for NT Rolls. |
| Jan. 1970 | The Company merges with Pacific Nickel Corporation and changes its name to Pacific Metals Co., Ltd. Toyama Factory. |
| Aug. 1971 | New 3,600-ton forging press shop is opened. |
| May 1974 | New 40-ton Electric Arc furnace is installed. |
| Jan. 1982 | New 20-ton ESR furnace is installed. |
| Jul. 1984 | The Company splits from Pacific Metals Co., Ltd. and changes its name to Pacific Steel MFG. Toyama Works. |
| Sep. 1990 | Capacity of 3,600-ton press is increased to 4,300 tons. |
| Apr. 1994 | New 40-ton ladle refining furnace is installed. |
| Nov. 1999 | ISO-9002 certification is obtained for carbon steel, alloy steel and stainless steel forgings. |
| Nov. 2003 | Updated to ISO 9001 certification. |
| Jun. 2008 | New 50-ton VOD equipment is installed. |
| Jul. 2010 | Fourth machining shop is opened. |
| Jan. 2011 | New 8,000-ton forging press shop is opened. |
| Oct. 2011 | The Company obtains ISO14001 certification. |
| Jan. 2017 | 100-ton ladle furnace began operartion. |