Group Companies
A member of the Pacific Metals Group, Pacific Steel MFG. is a specialized manufacturer of steel forgings equipped with 8,000 and 4,300-ton hydraulic presses.
The activities of the group span a very wide range of industries and fields, from stainless steel and other materials and products to castings, abrasives, semiconductors, pumps and plant machinery.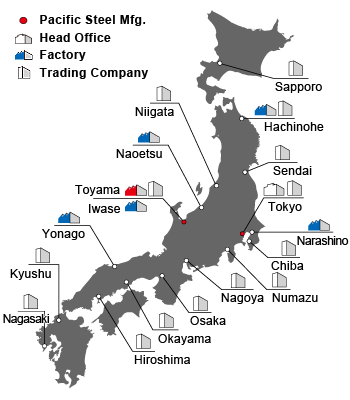 Pacific Metals Co., Ltd. Hachinohe Works
Core products:Ferrous alloys, others
Iron sand pig production was launched in May 1957. Afterward, in response to changes in social conditions, it became a manufacturing center to mainly produce ferronickel and nickel-based stainless steel utilizing the favorable conditions of its location in a coastal industrial zone.
In September 1970, a new 40,000 KVA electric furnace (Furnace No. 7) was installed for ferronickel—the largest in the world—and the company led the world in establishing general technology with an Elkem-type large electric furnace. Today the company has three 60,000 KVA electric furnaces for ferronickel and boasts of proprietary smelting technology. It maintains its status as one of the leading ferronickel smelting plants in the world.
---

Pacific Rundum Co., Ltd.
Core products: Abrasives, semiconductors, others
The company was established in June 1983. It supplies grinding and polishing materials under the Nisso Rundum trademark and is actively engaged in the manufacture and sale of parts for the growing fields of semiconductors and telecommunications.
The company is also pouring efforts into overseas production in China (Shanghai) and the United States (Oregon) to strengthen its international competitiveness.
---

Pacific Special Alloy Castings Co., Ltd.
Core products:Castings, pumps, others
Established in July 1984, the company leverages various molding methods as a special alloy casting product manufacturer and makes diverse products of varying in size from grams to tons. It is also engaged in new endeavors in different fields, such as high-precision electron beam perforated products and stainless steel joint products.
Moreover, the company also contributes to a wide range of fields, including hydroelectric and thermal power generation, cement, steel and environmental equipment.
---

Pacific Machinery & Engineering Co., Ltd.
Core products:Plant machinery, pumps, others
The company was established in July 1984. As a general pump manufacturer, it manufactures many special pumps, from water supply to high viscosity slurry pumps. It also manufactures various granule mixers that have been well-received by the industry.
The company also engages in the manufacture of devices and general plant engineering using these special pumps and mixers.
---

Yonago Steel Co., Ltd.
Core products:Castings, others
Established in December 1985, the company carries various kinds of products as a cast steel manufacturer, from common steel to low alloy steel, high manganese steel and super duplex stainless steel (SDSS).
The company's proprietary Yonago YS Recuperators have received tremendous praise, especially from steel-related users.
---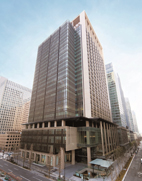 Pacific Sowa Corporation
The company was established in October 1956. As a general trading company paving the way for a new age of metals, it sells the products of group companies and procures raw materials. It also carries a wide range of products, from machinery like hydraulic equipment to aluminum products.
It is also actively engaged in the cultivation of demand in new fields like downstream stainless steel products, stainless steel powder, electromagnetic materials and activated carbon.
Major Trading Partners
The company, whose main products are parts for power generation equipment, delivers products to turbine plant manufacturers like Mitsubishi Heavy Industries, Ltd., Toshiba Corporation Keihin Product Operations, Hitachi, Ltd., IHI Corporation, Kawasaki Heavy Industries, Limited, Fuji Electric Co., Ltd. and Ebara Corporation.
Our forged iron for Structure mill are delivered to blast furnace manufacturers like Nippon Steel & Sumitomo Metal Corporation, NKK Corporation and Kawasaki Steel Corporation, and our ship engine parts are delivered to ship manufacturers.